VDA-conform labels & materials for logistic industry
Lean-Production as impulsive force needs increasing complex and automated processes in logistic. At the same time high requirements are set to the flow of information. Therefore a safe and reliable identification as link between goods- and information flow becomes more and more important.
Identification for KLT-container
The identification of KLT-container in supplier industry nowadays and is compulsory required from the members of VDA. The resistance of labels is very important during the whole supply chain, because lost carrier cause considerable costs. That is where DYNAMIC Systems is deposited and offers several suitable materials and identification solutions:
DS-Nr.
Material
Topcoat
Temperature range
Printability
Special features
DE-F470
Polyester
white matte; without adhesive

-40°C up to +160°C
(30 min.)

Laser print
Break perforation central on label; optional with adhesive tape back-facing; high tear- and pull stability
DE-F480
Polyester
white glossy; without adhesive
-40°C up to +160°C
Thermal transfer-/
Flexo-/Offset-/silk-screen print
Break perforation central on label; high tear- and pull stability; scratch and wipe resistant imprint
DE-F927
Paper
white silk matte; without adhesive
-20°C up to +60°C
Thermal transfer- and Laser print
Simple card without requirements on tear- and weather resistance
DE-F965
Composite Paper and Polyester
white, double-sided glossy; without adhesive
up to +60°C (depending on humidity)
printable in all common print methods; special print colours are not necessary
Horizontal perforation central on label; high tear stability; standard version for KLT-container
Multi functional documents from DYNAMIC Systems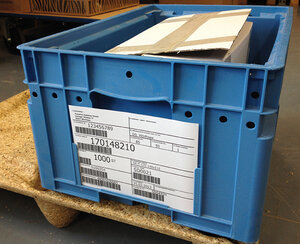 The robust base material facilitates the handling as well for printing, as for placing the identification, independent from size or the labelled container type:
low-cost, multifunctional data carrier
no glue dots necessary, no label residues after removing
safe fixing also outdoor
safe data capture in automated processes
As system supplier with production and contractual partner of leading prodicers from Auto-ID and print-systems we are happy to advise you for individual complete solutions.